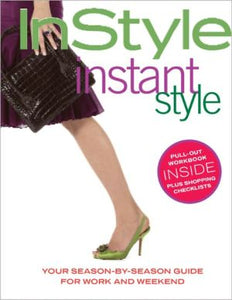 In Style: Instant Style (Your Season-By-Season Guide for Work and Weekend)
ever Been Overwhelmed By A Closet That Feels Like It's Filled With All The Wrong Pieces?

instant Style Is The Ultimate Guide To Streamlining, Shopping For And Maintaining Your Ideal Wardrobe All Year Round.

the Book Starts With The Basics, Outlining The Essential Clothes Items For Each Season-winter Coats, Spring Skirts, Summer Sandals, Fall Sweaters-and Shows How To Complement These With Pieces That Accentuate Your Personal Style. Learn Which Tops Go With What Pants, What Kind Of Boots Look Best With Different Skirts, How The Right Bag Can Change The Entire Look Of An Outfit, And How To Flatter Your Coloring And Body Type. Find Out When To Hit The Best Sales, What's Worth Splurging On, And How To Recognize High-quality Clothes. Finally, Benefit From The Book's Comprehensive Listing Of In Style's Recommended Stores Around The Country.

instant Style Is Filled With Hundreds Of Colorful Photographs Of Clothes And Celebrities That Will Inspire And Delight Readers And Is The First Book That Gives Readers Everything They Need To Make Shopping And Clothes As Enjoyable As They Should Be.

publishers Weekly

instyle Magazine Hit Newstands In 1994, Committed To Celebrity Lifestyle, And Gets Most Of The Credit (or Blame) For The Current Obsession With Celebrities: Where They Live, Where They Vacation, What They Eat, What They Buy And Especially What They Wear. One Of Instyle's Most Popular Sections Is The Look Pages Of Celebrity Photos Shot At Fabulous Parties And Award Events, With Captions Crediting Their Designer Duds. But Along The Way, Instyle Also Became A Premier Fashion Magazine, With The Idea Of Bringing The Fabulous To The Many. This Book By The Editors Offers A Season-by-season Guide To Dressing Well In All Situations And Being, Well, In Style. The Coverage Is Entertaining, With Much-photographed Women Like Sarah Jessica Parker, Cameron Diaz, Oprah And Jennifer Aniston Providing Examples For Know Your Own Shape (are You Slender And Petite Like Eva Longoria? Small-busted Like Kate Hudson?) And How Best To Dress For Your Age (68-year-old-jane Fonda Showing How It's Done For Her Decade). There Are Sections On Editing Your Wardrobe, Putting Outfits Together, Essential Lingerie, Checklists And Worksheets, And Even An Index Of Stores Throughout The Country. The Result Is A Terrific-looking Book With Helpful Hints In A Useful And Entertaining Format, A Perfect Encapsulation Of Everything The Magazine Does Month After Month. (oct. 24) Copyright 2006 Reed Business Information.

Author: Kathleen Fifield.

Publisher: InStyle
Pages: 208
Publication Date: 2006
Edition: 1
Binding: Flexibound
MSRP: 29.95
ISBN13: 9781933405209
ISBN: 1933405201
Language: en
Quality Rating: 1
"Book cover image may be different than what appears on the actual book."
---
We Also Recommend