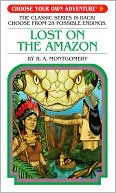 Lost on the Amazon (Choose Your Own Adventure #9)
the Amazon River Basin Is Home To The Greatest Biodiversity On Planet Earth. Will It Yield Up Its Potential Cures? Or Sink You In Its Depths?

strange Tropical Diseases Can Wipe Out Whole Communities In Days. And In This Age Of Modern Travel, They Can Morph Into Worldwide Epidemics In Mere Weeks. You Are A Young Doctor Specializing In Such Threats. Now You Face A Journey Into The Heart Of The Amazon Jungle Where Your Medical Team Has Mysteriously Disappeared In The Search For A Cure.

for Hours You Travel With The Light Of Stars.
owaduga, Could It Be The Amazons Who Captured My Friends?
the Canoe Twists In The Current.
be Quiet!
you Look Into The Darkness. Nothing! The Dugout Bumps Against A Submerged Log. There On The Bank Is A Tall, Strong Looking Figure. It Is A Woman. There Are Others Behind Her.
owaduga Speaks. If You Wish, Why Not Ask Her?
if You Ask These Women For Help, Turn To Page 11. If You Ask Owaduga To Speak For You, Turn To Page 33.

the Amazon Does Not Yield Its Treasures Easily. You Must Open Your Heart And Your Mind. The Rewards Are Great And The Dangers Are Even Greater. Good Luck! Choose Well.

Author: R. A. Montgomery.

Publisher: Chooseco
Pages: 144
Publication Date: 2012-11-30T00:00:01Z
Edition: Illustrated
Binding: Paperback
MSRP: 0.00
ISBN13: 9781933390093
ISBN: 1933390093
Language: en_US
Quality Rating: 1
"Book cover image may be different than what appears on the actual book."