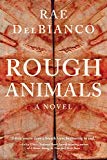 Rough Animals: An American Western Thriller
Ever Since Their Father's Untimely Death Five Years Before, Wyatt Smith And His Inseparably Close Twin Sister, Lucy, Have Scraped By Alone On Their Family's Isolated Ranch In Box Elder County, Utah. That Is Until One Morning When, Just After Spotting One Of Their Bulls Lying Dead In The Field, Wyatt Is Hit In The Arm By A Hail Of Gunfire That Takes Four More Cattle With It. The Shooter: A Fever-eyed, Fearsome Girl-child With An Outdated Tec-9 In Her Left Hand And A Worn Shotgun In Her Right. They Hold The Girl Captive, But She Breaks Loose Overnight And Heads South Into The Desert. With The Dawning Realization That The Loss Of Cattle Will Mean The Certain Loss Of The Ranch, Wyatt Feels He Has No Choice But To Go After Her And Somehow Find Restitution For What's Been Lost. Wyatt's Decision Sets Him On An Epic Twelve-day Odyssey Through A Nightmarish Underworld He Only Half Understands; A World That Pitches Him Not Only Against The Primordial Ways Of Men And The Beautiful Yet Brutally Unforgiving Landscape, But Also Against Himself. As He Winds His Way Down From The Mountains Of Box Elder To The Mesas Of Monument Valley And Back, Wyatt Is Forced To Look For The First Time At Who He Is And What He's Capable Of, And How Those Hard Truths Set Him Irrevocably Apart From The One Person He's Ever Really Known And Loved. Steeped In A Mythic, Wildly Alive Language Of Its Own, And Gripping From The First Gunshot To The Last, Rough Animals Is A Tour De Force From A Powerful New Voice --
Author: DelBianco, Rae.

Publisher: Arcade
Pages: 304
Publication Date: 2018
Edition: 1
Binding: Hardcover
MSRP: 0.00
ISBN13: 9781628729733
ISBN: 1628729732
Other ISBN: 9781628729740
Other ISBN Binding: printisbn
Language: en
Quality Rating: 1
"Book cover image may be different than what appears on the actual book."
---
We Also Recommend