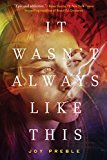 It Wasn't Always Like This
In The 1913 Florida Everglades, Seventeen-year-emma O'neill Samples An Elixir From The Fountain Of Youth With Charlie Ryan, Her First Love. For The Next Three Years, The Two And Their Families Live In Isolated Bliss . . . Until The Wrong People Catch Wind Of Their Discovery. The Magical Waters Have Made Them Impervious To Aging, But Not To Murder. In The Ensuing Bloodbath That Takes Their Families, Emma And Charlie Are Separated. For The Next 100 Years, Emma Wanders The World, Evading The Murderers And Their Descendents--and Searching For The Perpetually Seventeen-year-old Boy She's Certain Is Still Out There.
Author: Preble, Joy.

Publisher: Soho Teen
Pages: 256
Publication Date: 2016-05-17T00:00:01Z
Binding: Hardcover
MSRP: 18.99
ISBN13: 9781616955885
ISBN: 1616955880
Other ISBN: 9781616955892
Other ISBN Binding: printisbn
Language: en_US
Quality Rating: 1
"Book cover image may be different than what appears on the actual book."