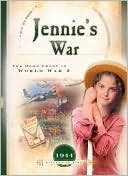 Jennie's War: The Home Front in World War II (1944) (Sisters in Time #23)
time Period: July 1943 - June 1944 ten-year-old Jennie Fleming Is Doing What She Can To Help Win A War-she's Hoeing Weeds In Her Victory Garden. In 1944, With The United States Battling Both Germany And Japan In A Worldwide Conflict, Everyone Must Play A Part In The Overall War Effort. Jennie's War Uses Actual Historical Events To Tell The Intriguing Fictional Story Of A Young Girl On The Home Front-and Her Suspicions That A New Man In The Neighborhood Might Be A Spy. The Compelling Reading Makes It A Favorite Of Eight- To Twelve-year-old Girls.

Author: Hinman, Bonnie.

Publisher: Barbour Books
Pages: 144
Publication Date: 2005
Edition: 8
Binding: Paperback
MSRP: 4.97
ISBN13: 9781593106591
ISBN: 1593106599
Language: en
Quality Rating: 1
"Book cover image may be different than what appears on the actual book."