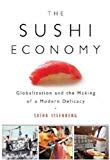 The Sushi Economy: Globalization and the Making of a Modern Delicacy
A Combination Of Culinary Biography, Behind-the-scenes Restaurant Detail, And A Unique Exploration Of Globalization's Dynamics, This Book Traces Sushi's Journey From Japanese Street Snack To Global Delicacy. The Sushi Economy Takes You Through The Stalls Of Tokyo's Massive Tsukiji Market, Where The Auctioneers Sell Millions Of Dollars Of Fish Each Day, And To The Birthplace Of Modern Sushi - In Canada. Issenberg Then Follows Sushi's Evolution In America, Exploring How It Became La's Favorite Food. You're Taken Behind The Sushi Bar With Chef Nobu Matsuhisa, Whose Distinctive Travels Helped Define The Flavors Of Global Sushi Cuisine, And With A Unique Sushi Chef Blazing A Path In Texas. Issenberg Also Delves Into The Complex Economics Of The Fish Trade, Following The Ups And Downs Of The Hunt For Bluefin Off New England, The Tuna Cowboys On The Southern Coast Of Australia Who Invented The Art Of Tuna Ranching, And Uncovering The Mysterious Underworld Of Pirates, Smugglers, And The Tuna Black Market.--jacket. Introduction: World Gone Raw. Part One: The Freight Economy -- Prince Edward Island, Canada: The Day Of The Flying Fish -- Tokyo, Japan: Tsukiji -- Narita, Japan: The Hub -- Tokyo, Japan: Fast-food Metropolis. Part Two: The Food Economy. Los Angeles, California: Are You Ready For Rice Sandwiches? -- Paradise Island, Bahamas: New Style -- Austin, Texas: Lone Star. Part Three: The Fish Economy. Gloucester, Massachusetts: Imperfect Storms -- Port Lincoln, Australia: Meanwhile, Back At The Ranch -- Madrid, Spain: The Raw And The Crooked. Part Four: The Future Economy. Dalian, China: Port Of Call. Sasha Issenberg. Includes Bibliographical References (p. 301-308) And Index.
Author: Issenberg, Sasha.

Publisher: Gotham
Pages: 352
Publication Date: 2007
Edition: 1st
Binding: Hardcover
MSRP: 0.00
ISBN13: 9781592402946
ISBN: 1592402941
Other ISBN: 9781101216880
Other ISBN Binding: print
Language: en
Quality Rating: 1
"Book cover image may be different than what appears on the actual book."
---
We Also Recommend