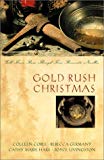 Gold Rush Christmas: Love's Far Country/A Token of Promise/Band of Angels/With This Ring (Inspirational Christmas Romance Collection)
Author: Coble, Colleen.
Germany, Rebecca.
Hake, Cathy Marie.
Livingston, Joyce.

Publisher: Barbour Publishing, Inc
Pages: 352
Publication Date: 2003-09-01
Binding: Paperback
MSRP: 6.97
ISBN13: 9781586607777
ISBN: 1586607774
Language: en
Store Location: Christmas
"Book cover image may be different than what appears on the actual book."