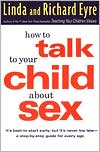 How to Talk to Your Child About Sex
HOW TO TALK TO YOUR CHILD ABOUT SEX provides thoughtful, clear, specific guidance concerning where, when -- and most importantly -- how to help children begin to understand sex, love, and commitment from the most positive viewpoint. Providing a series of dialogues -- point-by-point discussion outlines that have been tried and proven effective by thousands of families -- the Eyres also give parents a fresh opportunity to reassess their own attitudes as they communicate them to their children.

Author: EYRE, RICHARD.

Publisher: Golden Press
Pages: 240
Publication Date: 1999-11-29T00:00:01Z
Edition: 1st
Binding: Paperback
MSRP: 17.99
ISBN13: 9781582380575
ISBN: 1582380570
Language: en_US
Quality Rating: 1
"Book cover image may be different than what appears on the actual book."
---
We Also Recommend