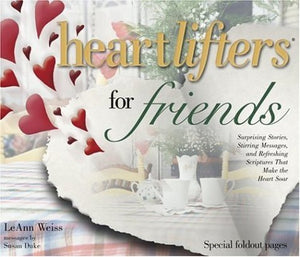 Heartlifters for Friends: Surprising Stories, Stirring Messages, and Refreshing Scriptures That Make the Heart Soar
Author: Weiss, Leann.
Duke, Susan.

Publisher: Howard Pub Co
Pages: 64
Publication Date: 2000
Edition: Gift
Binding: Hardcover
MSRP: 12.99
ISBN13: 9781582291000
ISBN: 1582291004
Language: en
Store Location: Self Help
"Book cover image may be different than what appears on the actual book."
---
We Also Recommend