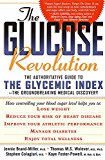 The Glucose Revolution: The Authoritative Guide to the Glycemic Index--the Groundbreaking Medical Discovery
Author: Brand-Miller MD, Dr. Jennie.
Foster-Powell BSc MND, Kaye.
Miller PhD, Jennie.
Wolever PhD, Thomas M.S..
Colagiuri MD, Stephen.

Publisher: Da Capo Lifelong Books
Pages: 304
Publication Date: 1999
Edition: 1
Binding: Paperback
MSRP: 14.95
ISBN13: 9781569246603
ISBN: 1569246602
Language: en
Store Location: Health
"Book cover image may be different than what appears on the actual book."
---
We Also Recommend