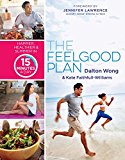 The Feelgood Plan: Happier, Healthier & Slimmer in 15 Minutes a Day
Author: Wong, Dalton.
Faithfull-Williams, Kate.

Publisher: Union Square & Co.
Pages: 224
Publication Date: 2016
Edition: 1
Binding: Hardcover
MSRP: 21.95
ISBN13: 9781454919728
ISBN: 1454919728
Language: en
Store Location: Health
"Book cover image may be different than what appears on the actual book."
---
We Also Recommend