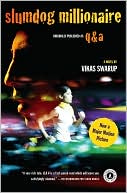 Slumdog Millionaire: A Novel
Vikas Swarup. Originally Published As Q & A -- Cover. Includes Reading Group Guide (p. [320-323]). Originally Published In Great Britain : Doubleday, 2005. Scribner Trade Pbk. Ed. Nov. 2008.-- T.p. Verso.
Author: Swarup, Vikas.

Publisher: Scribner
Pages: 318
Publication Date: 2008-11-18T00:00:01Z
Binding: Paperback
MSRP: 15
ISBN13: 9781439136652
ISBN: 1439136653
Language: en_US
Quality Rating: 1
"Book cover image may be different than what appears on the actual book."
---
We Also Recommend