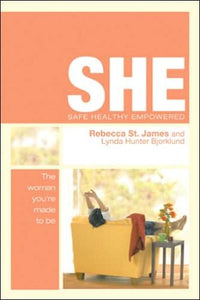 SHE: Safe, Healthy, Empowered: The Woman You're Made To Be
Author: St. James, Rebecca.
Hunter Bjorklund, Lynda.

Publisher: Tyndale House Publishers
Pages: 218
Publication Date: 2004
Edition: 0
Binding: Paperback
MSRP: 14.1
ISBN13: 9781414300269
ISBN: 1414300263
Language: en
Store Location: Self Help
"Book cover image may be different than what appears on the actual book."
---
We Also Recommend