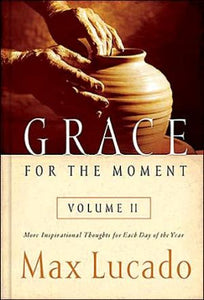 Grace for the Moment, Vol. 2: More Inspirational Thoughts for Each Day of the Year
though Maintaining A Consistent Devotional Life Is Not Always Easy, Max Lucado's Best-selling grace For The Moment, Volume 1 Proved To 2,500,000 Readers That They Could Have A Daily Quiet Time! Now Comes grace For The Moment, Volume 2. This Yearlong Book Features Captivating Daily Devotionals That Offer Enough Inspiration, Power, And Hope To Carry You Through The Busiest Of Days. America's Leading Inspirational Author Again Fills Each Day's Reading With Touching Word Pictures That Offer Guidelines For Grace-filled Living. Plus, Striking Full-color Photos Add To The Beauty Of This Latest Collection.

grace For The Moment, Volume 2 Is Yet Another Great Way To Encourage Anyone To Celebrate Daily Time With God. All It Takes Is A Moment.

Author: Gibbs, Terri A..

Publisher: Thomas Nelson Inc
Pages: 393
Publication Date: 2006-02-07T00:00:01Z
Binding: Hardcover
MSRP: 11.18
ISBN13: 9781404100978
ISBN: 1404100970
Other ISBN: 9781418526719
Other ISBN Binding: printisbn
Language: en_US
Quality Rating: 1
"Book cover image may be different than what appears on the actual book."