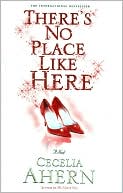 There's No Place Like Here
Sandy Shortt Has Dedicated Her Life To Finding Missing People And Missing Things, So Jack Ruddle Enlists Her Help In Searching For His Vanished Brother. But When Sandy Goes Missing, Jack Must Hunt For Her--and Sandy Must Find Her Way Back Home From A Place Called Here--a Community Where The Missing Seem To Go.
Author: Ahern, Cecelia.

Publisher: Hachette Books
Pages: 352
Publication Date: 2007-09-04T00:00:01Z
Edition: 1
Binding: Hardcover
MSRP: 30.99
ISBN13: 9781401301880
ISBN: 1401301886
Other ISBN: 9781401394684
Other ISBN Binding: printisbn
Language: en_US
Quality Rating: 1
"Book cover image may be different than what appears on the actual book."
---
We Also Recommend