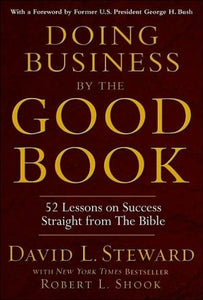 Doing Business by the Good Book: Fifty-Two Lessons on Success Sraight from the Bible
Foreward written by George H. Bush. An indispensable volume that shows how to succeed in business by using the Bible and its lessons as a source of inspiration and guidance.

In 1990, David L. Steward founded his company, Worldwide Technology, Inc., on a shoestring budget and borrowed money, well aware of the high-risk nature of the venture he was undertaking. Despite the fact that he was a novice entrepreneur, he was certain he would succeed. Steward believed intensely that God wouldn't let him down. Doing Business by the Good Book shares the inspiring lessons culled straight from the Bible, that Steward used to build his privately held billion-dollar company into a global information technology enterprise.

"David Steward has come up with an idea that betters the way we live and work. The idea that he embodies is not actually new-it is a 2,000-year-old philosophy that makes as much sense today as it did back then." (Former President George H. Bush, from the foreword to Doing Business by the Good Book)

In Doing Business by the Good Book, Steward delivers 52 chapters, each accompanied by scriptural passages that emphasize their impact on his personal struggle to build a billion-dollar business.

Included are chapters such as:

— Being a Customer-Driven Company
"In everything do to others as you would have them do to you." (Matthew 7:12) — Implementation
"Be doers of the world, and not merely hearers who deceive themselves." (James 1:22) — Praise and Recognition
"Do not withhold good from those to whom it is due, when it is in your power to do it." (Proverbs 3:27) — Good Leadership
"This is my commandment, that you love one another as I have loved you." (John 15:12) — Consistency
"Now faith is the assurance of things hoped for, the conviction of things not seen." (Hebrews 11:1)

David L. Steward is the founder and CEO of Worldwide Technologies, Inc., which Black Enterprise magazine named as the largest African-American owned company operating in the United States. Steward also serves as the co-chairman of the United Way in St. Louis, Missouri, his hometown. Robert L. Shook is the author of numerous books, including the New York Times bestseller Longaberger. He lives in Columbus, Ohio.

Publishers Weekly

Jesus' teachings were not meant to be spoken only on Sunday, writes Steward, CEO of World Wide Technology Inc., the world's largest African-American-owned company. Rather, those teachings were meant to be implemented everywhere, including the workplace. In this book, Steward shares 52 biblical principles in short, easy-to-read chapters that can be digested once a week for a full year or devoured in one sitting. Steward draws heavily on his own knowledge of building a high-tech company from the ground up, and also his corporate experiences at FedEx and Union Pacific. He has a real knack for helping readers see how biblical principles relate to those experiences and to contemporary business issues. Even the trendy notion of "branding" is placed thoughtfully with a relevant Scripture (Matthew 12:33: "Either make the tree good, and its fruit good, or make the tree bad, and its fruit bad; for the tree is known by its fruit."). Christian businesspeople who want a solid introduction to biblical ethics in the workplace will particularly enjoy his fine chapters on accountability, enthusiasm, customer satisfaction and networking. (Jan.) Copyright 2004 Reed Business Information.

Author: David Steward.
Robert L. Shook.

Publisher: Hachette Books
Pages: 288
Publication Date: 2004-01-02T00:00:01Z
Edition: 1st
Binding: Hardcover
MSRP: 12.31
ISBN13: 9781401300623
ISBN: 1401300626
Other ISBN: 9781401342944
Other ISBN Binding: print
Language: en_US
Quality Rating: 1
"Book cover image may be different than what appears on the actual book."
---
We Also Recommend