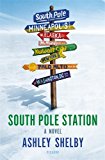 South Pole Station: A Novel
Do You Have Digestion Problems Due To Stress? Do You Have Problems With Authority? How Many Alcoholic Drinks Do You Consume A Week? Would You Rather Be A Florist Or A Truck Driver? These Are The Questions That Decide Who Has What It Takes To Live At South Pole Station, A Place With An Average Temperature Of -54°f And No Sunlight For Six Months A Year. Cooper Gosling Is Adrift At Thirty, Unmoored By A Family Tragedy And Floundering In Her Career As A Painter. So She Applies To The National Science Foundation Artists & Writers Program And Flees To Antarctica -- The Bottom Of The Earth -- Where She Encounters A Group Of Misfits Motivated By Desires As Ambiguous As Her Own. There's Pearl, The Cook Whose Carrot Mushroom Loaf Becomes Means Toward Her Machiavellian Ambitions; The Oxymoronic Sal (he Is An Attractive Astrophysicist); And Tucker, The Only Gay Black Man On The Continent Who, As Station Manager, Casts A Watchful Eye On All. The Only Thing They Have In Common Is The Conviction That They Don't Belong Anywhere Else. Enter Frank Pavano -- A Climatologist With Unorthodox Beliefs. His Presence Will Rattle This Already Unbalanced Community, Bringing Cooper And The Polies To The Center Of A Global Controversy And Threatening The 800-million-year-old Ice Chip They Call Home. In The Tradition Of And Then We Came To The End And Where'd You Go Bernadette?, South Pole Station Is A Warmhearted Comedy Of Errors Set In The World's Harshest Place. -- Ashley Shelby. Subtitle Taken From Cover.
Author: Shelby, Ashley.

Publisher: Picador
Pages: 368
Publication Date: 2017
Edition: First Edition
Binding: Hardcover
MSRP: 26
ISBN13: 9781250112828
ISBN: 1250112826
Language: en
Quality Rating: 1
"Book cover image may be different than what appears on the actual book."
---
We Also Recommend