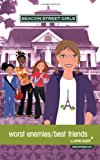 Worst Enemies/Best Friends (Beacon Street Girls #1) (Beacon Street Girls)
Author: Annie Bryant.

Publisher: B*tween Producions, Inc.
Pages: 232
Publication Date: 2004
Edition: 1
Binding: Paperback
MSRP: 7.99
ISBN13: 9780974658766
ISBN: 0974658766
Language: en
Store Location: Teen
"Book cover image may be different than what appears on the actual book."
---
We Also Recommend