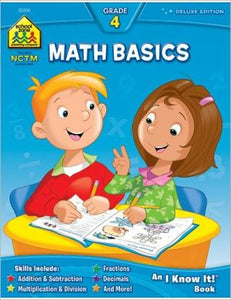 School Zone - Math Basics 4 Workbook - 64 Pages, Ages 9 to 10, 4th Grade, Multiplication, Division Symmetry, Decimals, Equivalent Fractions, and More (School Zone I Know It!® Workbook Series)
Author: School Zone.
Joan Hoffman.
Barbara Bando Irvin, Ph.D..

Publisher: School Zone Publishing
Pages: 64
Publication Date: 2015
Edition: Deluxe
Binding: Paperback
MSRP: 0.00
ISBN13: 9780887431401
ISBN: 0887431402
Language: en
Store Location: Education
"Book cover image may be different than what appears on the actual book."
---
We Also Recommend