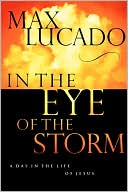 In the Eye of the Storm
Come face-to-face with Jesus when He experienced more stress than any other day of his life aside from his crucifixion. Before the morning became evening, he has reason to weep, run, shout, curse, praise, and doubt. If you know what it means to be caught in life's storms…if you've ever ridden the roller coaster of sorrow and celebration…if you've ever wondered if God in heaven can relate to you on earth, then this book will encourage and inspire you.

Author: Lucado, Max.

Publisher: W Publishing Group
Pages: 304
Publication Date: 2002-01-21T00:00:01Z
Edition: Reprint
Binding: Paperback
MSRP: 14.99
ISBN13: 9780849943256
ISBN: 0849943256
Other ISBN: 9781418515898
Other ISBN Binding: print
Language: en_US
Quality Rating: 1
"Book cover image may be different than what appears on the actual book."