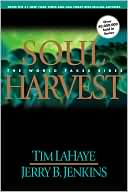 Soul Harvest: The World Takes Sides (Left Behind No. 4)
Author: Jenkins, Jerry B..
LaHaye, Tim.

Publisher: Tyndale House Publishers, Inc.
Pages: 424
Publication Date: 1999-02-01
Edition: 1
Binding: Paperback
MSRP: 14.99
ISBN13: 9780842329255
ISBN: 0842329250
Language: en
Store Location: Christian Fiction
"Book cover image may be different than what appears on the actual book."