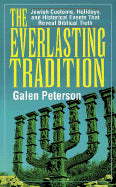 Everlasting Tradition, The
Part One: Tradition -- So What's A Good Tradition? -- A Little Box And A Cord Of Blue -- Do You Really Love God? -- Written On Your Heart -- Part Two: Blessing -- Blessings, Blessings, Everywhere -- Messiah Was Not Born On Christmas -- The Day The Rabbis Blinked -- Some Of That Old-time Jewish Religion -- Part Three: Redemption -- The Politically Incorrect Doctrine -- A Place In The Book Of Life -- Who's To Blame? -- More Than Just Dessert -- Part Four: Celebration -- A Tale Of Two Temples -- When Is The Church Not The Church? -- A Marriage Made In Heaven And On Earth -- A Visit To The Museum. Galen Peterson. Includes Bibliographical References (p. 147-156).
Author: Peterson, Galen.

Publisher: Kregel Academic & Professional
Pages: 160
Publication Date: 1995
Binding: Paperback
MSRP: 10.99
ISBN13: 9780825434990
ISBN: 0825434998
Language: en
Quality Rating: 1
"Book cover image may be different than what appears on the actual book."
---
We Also Recommend