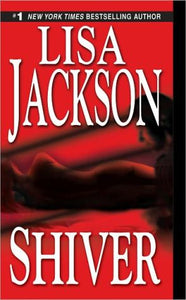 Shiver (A Bentz/Montoya Novel)
Detective Reuben "Diego" Montoya is back in New Orleans. Thanks to years of working with the dark side of society, his youthful swagger is gone, replaced by straightforward determination. He'll need it, because a serial killer is turning The Big Easy into his personal playground. The victims are killed in pairs no connection, no apparent motive, no real clues. Somebody's playing a sick game, and Montoya intends to beat him at it.

His only lead is the ex-wife of one of the victims. Abby Chastain is a woman haunted by painful secrets. Twenty years ago she watched in horror as her mother, a patient at the Our Lady of Virtues Mental Hospital, plunged through a window to her death. Abby has always dreaded that she too would one day go insane…especially now, back in this town, where she's begun to feel watched, as if the devil himself is scraping a fingernail along her spine. Something about Abby her spirit and her honest fear gets to Montoya. His gut tells him his prime suspect is innocent, just like it's telling him there's something significant about the once-grand hospital now decaying in a gloomy thicket of ancient live oaks. Abby Chastain can help unlock the mystery if only Montoya can get her to trust him enough to face the ghosts of her past.

As more bodies are found in gruesome, staged scenarios and the FBI moves in, Montoya's in a desperate race to find a killer whose crimes are getting more terrifying, and closer all the time. Plunging deep into a nightmare investigation will uncover a shocking revelation a deadly connection between Abby and Montoya and an asylum where unspeakable crimes were committed, evil once roamed free, and a human predator may still wait. For the past is never completely gone. Its sins must be avenged, its wrongs righted. And this time Detective Reuben Montoya may pay the price…

Publishers Weekly

Set in pre-Katrina New Orleans, the new romantic thriller by bestseller Jackson, her first to be published in hardcover, fits all the usual pieces into all the usual holes. A psycho sexual serial killer stalks victims connected to an insane asylum, shut down 20 years earlier but still standing in all its creepy abandonment. Abby Chastain, a portrait photographer on the rebound from a bad divorce, is trying to wean herself off men. Det. Reuben Montoya, the virile, not-by-the-book cop (last seen in 2002's Cold Blooded), is assigned to track down the serial killer. Along the way, Montoya develops-against his better judgment-a soft spot for the libido-tingling Chastain, now in peril because her mother was either murdered or committed suicide at the old asylum just before it closed. Fans of the prolific Jackson (Fatal Burn) should be pleased, but those unfamiliar with the conventions of romance fiction should be prepared for characters who "growl" rather than simply "say" and descriptions of physical beauty along the lines of a "body that wouldn't quit." Author tour. (Apr.) Copyright 2006 Reed Business Information.

Author: Jackson, Lisa.

Publisher: Zebra
Pages: 512
Publication Date: 2007-03-01T00:00:01Z
Edition: Reprint
Binding: Mass Market Paperback
MSRP: 7.99
ISBN13: 9780821775783
ISBN: 0821775782
Language: en_US
Quality Rating: 1
"Book cover image may be different than what appears on the actual book."