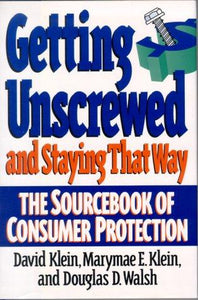 Getting Unscrewed and Staying That Way: The Sourcebook of Consumer Protection
Author: Klein, David.
Klein, Marymae E..
Walsh, Douglas D..

Publisher: Henry Holt & Co
Pages: 322
Publication Date: 1993
Edition: 1st
Binding: Hardcover
MSRP: 1.99
ISBN13: 9780805025903
ISBN: 0805025901
Language: en
Store Location: Money
"Book cover image may be different than what appears on the actual book."
---
We Also Recommend