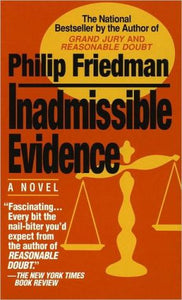 Inadmissible Evidence
for Tough New York City Prosecutor Joe Estrada, The Law Is His Life. That's Why He's Determined To Get The Goods On Millionaire Real-estate Tycoon And Community Hero Roberto Morales, Who Is Accused Of Raping And Murdering His Mistress. The More Joe Investigates, However, The Closer He Moves To The Possibility That Morales Is Innocent And That All He Has To Go On Is...inadmissable Evidence.

publishers Weekly

the Author Of Reasonable Doubt Returns With Another Unusually Convincing Courtroom Procedural. When An Appeals Court Sets Aside A Verdict Declaring Real Estate Developer Roberto Morales Guilty Of Raping And Murdering His Girlfriend, The Retrial Falls To Manhattan Assistant Da Joe Estrada. Determined To Build A Solid Case, Estrada Is Hampered By The Three-year Interval Since The First Conviction. The Trail Is Cold, Witnesses Prove Reluctant To Testify A Second Time, The Hispanic Community Resents Its Greatest Success Story's Being Put On Trial And Estrada Himself Begins To Have Doubts About Morales's Guilt. If Friedman's Insistence On Day-to-day Doings Occasionally Undercuts His Novel's Sense Of Drama And Consequence, It Also Invests His Story With Authority, Allowing A Clear Portrait Of The Give-and-take Of The Legal System And Affording An Even Stronger Sense Of The Ambiguities That Arise From The Pursuit Of Justice. Literary Guild Main Selection. (nov. )

Author: Friedman, Philip.

Publisher: Ivy Books
Pages: 640
Publication Date: 1993
Edition: Reprint
Binding: Mass Market Paperback
MSRP: 7.99
ISBN13: 9780804108522
ISBN: 0804108528
Language: en
Quality Rating: 1
"Book cover image may be different than what appears on the actual book."
---
We Also Recommend