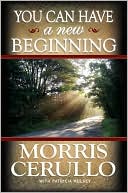 You Can Have a New Beginning
you Can Have A New Beginning Is An Excellent, Full-bodied Exposé For New Believers Or Seasoned Believers Who Need A Dash Of Refreshment. Filled With Key Strategies And Principles That Give You A Boost Of Spiritual Encouragement, The Well-told Biblical Stories Are Linked To Everyday Challenges With Victorious Outcomes.

best-selling Author And Pastor Morris Cerullo Identifies Satan's Tactics And Gives Practical Solutions To Beating Back The Enemy's Plans To Thwart Your God-given Destiny. Steps To Restore Fractured Families, Accept God's Second Chances, And For Living A Supernatural Life Are Shared, As Well As How To Knock Down The Barriers And Obstacles That May Be Standing In Your Way Of Living An Abundant And Fulfilling Spiritual, Physical, Financial, And Emotional Life!

Author: Cerullo, Morris.
Hulsey, Patrick.

Publisher: Destiny Image Publishers
Pages: 192
Publication Date: 2013
Edition: UNABRIDGED VERSION
Binding: Paperback
MSRP: 16.99
ISBN13: 9780768431964
ISBN: 0768431964
Language: en
Quality Rating: 1
"Book cover image may be different than what appears on the actual book."
---
We Also Recommend