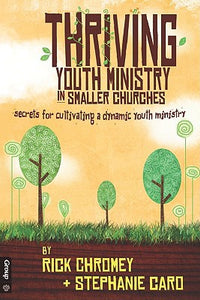 Thriving Youth Ministry in Smaller Churches: Secrets for Cultivating a Dynamic Youth Ministry
Author: Chromey, Rick.
Caro, Stephanie.
Group Publishing.

Publisher: Simply Youth Ministry
Pages: 251
Publication Date: 2009
Binding: Paperback
MSRP: 9.99
ISBN13: 9780764440519
ISBN: 0764440519
Language: en
Store Location: Christian Non Fiction
"Book cover image may be different than what appears on the actual book."
---
We Also Recommend