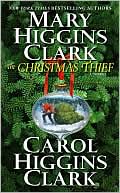 The Christmas Thief: A Novel
Author: Clark, Mary Higgins.
Clark, Carol Higgins.

Publisher: Pocket Books
Pages: 336
Publication Date: 2006
Edition: Reprint
Binding: Mass Market Paperback
MSRP: 0.00
ISBN13: 9780743272254
ISBN: 0743272250
Language: en
Quality Rating: 1
"Book cover image may be different than what appears on the actual book."