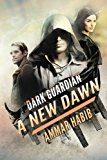 Dark Guardian: A New Dawn
Following The Event Of Dark Guardian, Ethan Has Fully Embraced His Alter Ego Of The Guardian. A Symbol Of Hope, He Has Battled Crime And Corruption For Over Two Years. But Now He Must Fight The Darkness That Threatens To Destroy Everything He Holds Dear.
Author: Ammar Habib.

Publisher: Ammar Habib
Pages: 298
Publication Date: 2017
Binding: Paperback
MSRP: 9.99
ISBN13: 9780692830574
ISBN: 069283057x
Language: En
Quality Rating: 1
"Book cover image may be different than what appears on the actual book."
---
We Also Recommend