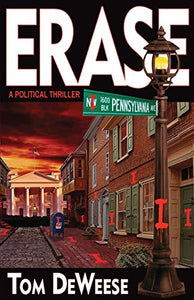 Erase
A Political Activist Is Mysteriously Murdered, And A Major Publisher Faces Ruin As A Powerful, Yet Unknown Force Threatens His Industry. A Tv Preacher Discovers A Movement Inside His Own Religion To Remove God, And A High School Teacher Is Told He Can No Longer Teach Facts In His Classroom. By Night, A Graffiti Artist Splashes Paint On The Sides Of Government Buildings And People Feel A Shiver Of Trepidation, Wondering What His Cryptic Messages Mean. Five Heroes Wonder Why These Seemingly Separate Occurrences Are Happening, And Whether They Might Be Connected. Is It The Failed Policies Of A Popular, Yet Weak President Causing Them, Or Might There Be A Sinister Force Hiding In The Darkness Controlling It All? Can The Events Be Stopped Before It Brings Down The Nation? A Mysterious Document Rumored To Be Hidden In The Dark Corners Of The Internet Might Have The Clues, But Will They Be Able To Find It In Time? Erase Is A Thrill Ride Of Twists And Turns As Each Clue Is Discovered Through A Maze Of Murder, Mayhem And Intrigue, And Villains And Heroes Push Against Each Other As They Race To A Surprising Finish.
Author: DeWeese, Tom.

Publisher: DeWeese Company Inc., The
Pages: 303
Publication Date: 2016-08-01T00:00:01Z
Edition: 1st
Binding: Paperback
MSRP: 0.00
ISBN13: 9780692748022
ISBN: 0692748024
Language: en_US
Quality Rating: 1
"Book cover image may be different than what appears on the actual book."
---
We Also Recommend