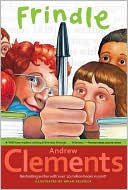 Frindle
When he decides to turn his fifth grade teacher's love of the dictionary around on her, clever Nick Allen invents a new word and begins a chain of events that quickly moves beyond his control.

Publishers Weekly

Trying to aggravate a tough language-arts teacher, a fifth-grade boy invents a new word for pen: "frindle." Soon, the whole country is using it. "Dictionary lovers will cotton to this mild classroom fantasy," said PW. Ages 8-12. (Feb.)

Author: Clements, Andrew.

Publisher: Atheneum Books for Young Readers
Pages: 112
Publication Date: 1998
Edition: Reprint
Binding: Paperback
MSRP: 7.99
ISBN13: 9780689818769
ISBN: 0689818769
Other ISBN: 9780689832505
Other ISBN Binding: print
Language: en
Quality Rating: 1
"Book cover image may be different than what appears on the actual book."