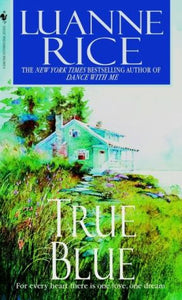 True Blue (Hubbard's Point)
Rumer Larkin had loved Zeb Mayhew for as long as she could remember. But when Zeb married Rummer's sister Elizabeth, the couple followed their dreams to Hollywood, leaving a devastated Rumer behind. Now, Zeb has returned, bringing his troubled son Colin with him. Sixteen-year-old Quinn Grayson, whom listeners met in Safe Harbor, befriends Colin and the two teens help Zeb and Rumer open up to each other and overcome past hurts. This mesmerizing, heartfelt story showcases Luanne Rice's considerable talent as she explores sadness, loss, and the power of love to heal.

Publishers Weekly

An earnest and affecting portrait of life in the magical seaside town of Hubbards Point, Conn., Luanne Rices True Blue finds childhood friends Rumer Larkin and Zeb Mayhew torn apart by a seemingly insurmountable betrayal"Zeb married Rumers older sister, Elizabeth, instead of her. Now, after a 20-year absence, a bitter divorce and a life-altering expedition aboard a space station, Zeb has returned to the Point seeking forgiveness and maybe something more. The themes of sisterhood and friendship that appear here are common threads in Rices novels (Safe Harbor, etc.), as is the sense that theres an ethereal force guiding the lives of the Points inhabitants. With its graceful prose, full-bodied characters and atmospheric setting, this uplifting and enchanting tale is likely to become a beachside staple. Copyright 2002 Cahners Business Information.

Author: Luanne Rice.

Publisher: Bantam
Pages: 512
Publication Date: 2002
Binding: Mass Market Paperback
MSRP: 7.5
ISBN13: 9780553583984
ISBN: 0553583980
Other ISBN: 9780307492135
Other ISBN Binding: printisbn
Language: en
Quality Rating: 1
"Book cover image may be different than what appears on the actual book."
---
We Also Recommend