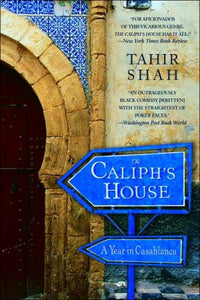 The Caliph's House: A Year in Casablanca
in The Tradition Of a Year In Provence And under The Tuscan Sun, Acclaimed English Travel Writer Tahir Shah Shares A Highly Entertaining Account Of Making An Exotic Dream Come True. By Turns Hilarious And Harrowing, Here Is The Story Of His Family's Move From The Gray Skies Of London To The Sun-drenched City Of Casablanca, Where Islamic Tradition And African Folklore Converge–and Nothing Is As Easy As It Seems….

inspired By The Moroccan Vacations Of His Childhood, Tahir Shah Dreamed Of Making A Home In That Astonishing Country. At Age Thirty-six He Got His Chance. Investing What Money He And His Wife, Rachana, Had, Tahir Packed Up His Growing Family And Bought Dar Khalifa, A Crumbling Ruin Of A Mansion By The Sea In Casablanca That Once Belonged To The City's Caliph, Or Spiritual Leader.

with Its Lush Grounds, Cool, Secluded Courtyards, And Relaxed Pace, Life At Dar Khalifa Seems Sure To Fulfill Tahir's Fantasy–until He Discovers That In Many Ways He Is Farther From Home Than He Imagined. For In Morocco An Empty House Is Thought To Attract Jinns, Invisible Spirits Unique To The Islamic World. The Ardent Belief In Their Presence Greatly Hampers Sleep And Renovation Plans, But That Is Just The Beginning. From Elaborate Exorcism Rituals Involving Sacrificial Goats To Dealing With Gangster Neighbors Intent On Stealing Their Property, The Shahs Must Cope With A New Culture And All That Comes With It.

endlessly Enthralling, the Caliph's House Charts A Year In The Life Of One Family Who Takes A Tremendous Gamble. As We Follow Tahir On His Travels Throughout The Kingdom, From Tangier To Marrakech To The Sahara, We Discover A World Of Fierce Contrasts That Any True Adventurer Would Be Thrilled To Call Home.

the Washington Post - Jason Goodwin

shah Writes An Outrageously Black Comedy With The Straightest Of Poker Faces. And In Some Quiet Alchemical Way, He Finds Himself At Peace With The Guardians And The Imam And The Gangster Down The Road And The Shanty Dwellers On His Doorstep And The Bank Manager At Home. He's Living There Still.

Author: Shah, Tahir.

Publisher: Bantam
Pages: 368
Publication Date: 2006
Edition: Illustrated
Binding: Paperback
MSRP: 12.98
ISBN13: 9780553383102
ISBN: 0553383108
Language: en
Quality Rating: 1
"Book cover image may be different than what appears on the actual book."
---
We Also Recommend