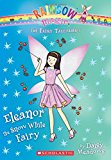 Eleanor the Snow White Fairy (The Fairy Tale Fairies #2)
Rachel And Kirsty Help Eleanor Get Her Magic Comb Back From Goblin Hands.
Author: Meadows, Daisy.

Publisher: Scholastic Paperbacks
Pages: 80
Publication Date: 2016
Edition: 1
Binding: Paperback
MSRP: 4.99
ISBN13: 9780545851909
ISBN: 0545851904
Language: en
Quality Rating: 1
"Book cover image may be different than what appears on the actual book."