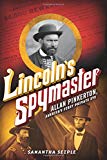 Lincoln's Spymaster: Allan Pinkertonmerica's First Private Eye
A Biography Of The Scottish Immigrant Barrel-maker Whose Side Line Detective Work Developed Into The Oldest And Most Famous Detective Agency In The United States.
Author: Seiple, Samantha.

Publisher: Scholastic Press
Pages: 224
Publication Date: 2015
Binding: Hardcover
MSRP: 0.00
ISBN13: 9780545708975
ISBN: 0545708974
Language: en
Quality Rating: 1
"Book cover image may be different than what appears on the actual book."