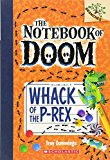 Whack of the P-Rex: A Branches Book (The Notebook of Doom #5) (5)
Author: Cummings, Troy.

Publisher: Scholastic Inc.
Pages: 96
Publication Date: 2014
Edition: Illustrated
Binding: Paperback
MSRP: 0.00
ISBN13: 9780545698955
ISBN: 0545698952
Language: en
Store Location: Chapter
"Book cover image may be different than what appears on the actual book."