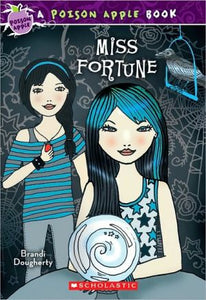 Poison Apple #3: Miss Fortune
zoe's Never Been Superstitious, So When She And Her Best Friend Mia Have Their Fortunes Read At A Carnival, She Doesn't Take It Seriously. In Fact, Zoe Mocks The Fortune-teller. But The Woman Gives Zoe A Necklace To Seal Her Fortune, And As Soon As Zoe Puts It On, Unexplained Things Begin To Happen To Her. Her Bike Spins Out Of Control, A Fire Starts In The Oven When It Isn't On, And Zoe Begins Receiving Threatening Texts And Emails. The Necklace Must Be Cursed! But When Zoe And Mia Return To The Site Of The Carnival, It's Gone! Can They Break The Curse Before Something Terrible Happens?

Author: Dougherty, Brandi.

Publisher: Scholastic Paperbacks
Pages: 192
Publication Date: 2010-08-01T00:00:01Z
Edition: 17372nd
Binding: Paperback
MSRP: 5.99
ISBN13: 9780545202664
ISBN: 0545202663
Language: en_US
Quality Rating: 1
"Book cover image may be different than what appears on the actual book."