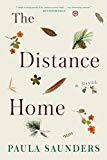 The Distance Home: A Novel
In The Years After World War Ii, The Bleak Yet Beautiful Plains Of South Dakota Still Embody All The Contradictions--the Ruggedness And The Promise--of The Old Frontier. This Is A Place Where You Can Eat Strawberries From Wild Vines, Where Lightning Reveals A Boundless Horizon, Where Descendants Of White Settlers And Native Indians Continue To Collide; And Where, For Most, There Are Limited Options. Rene´ Shares A Home, A Family, And A Passion For Dance With Her Older Brother, Leon. Yet For All They Have In Common, Their Lives Are On Remarkably Different Paths. In Contrast To Rene´, A Born Spitfire, Leon Is A Gentle Soul. The Only Boy In Their Ballet Class, Leon Silently Endures Often Brutal Teasing. Meanwhile, Rene´ Excels At Everything She Touches, Basking In The Delighted Gaze Of Their Father, Whom Leon Seems To Disappoint No Matter How Hard He Tries. As The Years Pass, Rene´ And Leon's Parents Fight With Increasing Frequency--and Ferocity. Their Father--a Cattle Broker--spends More Time On The Road, His Sporadic Homecomings Both Yearned For And Dreaded By The Children. And As Rene´ And Leon Grow Up, They Grow Apart. They Grasp Whatever They Can To Stay Afloat--a Word Of Praise, A Grandmother's Outstretched Hand, The Seductive Attention Of A Stranger--as Rene´ Works To Save Herself, Crossing The Border Into A Larger, More Hopeful World, While Leon Embarks On A Path Of Despair And Self-destruction. Tender, Searing, And Unforgettable, The Distance Home Is A Profoundly American Story Spanning Decades--a Tale Of Haves And Have-nots, Of How Our Ideas Of Winning And Losing, Success And Failure, Lead Us Inevitably Into Various Problems With Empathy And Caring For One Another. Paula Saunders.
Author: Saunders, Paula.

Publisher: Random House
Pages: 304
Publication Date: 2018-08-07T00:00:01Z
Edition: 1st
Binding: Hardcover
MSRP: 27
ISBN13: 9780525508748
ISBN: 0525508740
Other ISBN: 9780525508755
Other ISBN Binding: print
Language: en_US
Quality Rating: 1
"Book cover image may be different than what appears on the actual book."
---
We Also Recommend