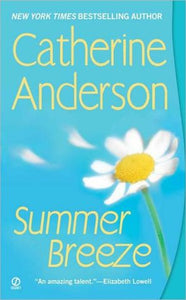 Summer Breeze (Coulter Family Historical)
The year is 1889, and Rachel Hollister hasn't set foot outside her house in five years. Ever since a savage attack left her family dead, she's cordoned herself off from the outside world, afraid to let anyone into her home-or into her heart. But now trouble has appeared on her doorstep-and suddenly she has no choice but to let a handsome rancher enter her well-guarded existence.

Author: Anderson, Catherine.

Publisher: Berkley
Pages: 432
Publication Date: 2006-01-03T00:00:01Z
Edition: 1st
Binding: Mass Market Paperback
MSRP: 7.99
ISBN13: 9780451217103
ISBN: 0451217101
Other ISBN: 9781101210529
Other ISBN Binding: print
Language: en_US
Quality Rating: 1
"Book cover image may be different than what appears on the actual book."