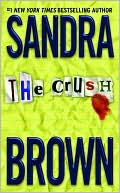 The Crush
When Dr. Rennie Newton—a beautiful but reserved doctor—serves jury duty, she is unnerved by the courtroom stare of the defendant. She suspects he is guilty, but must defend his inalienable rights. When she arrives home to find a dozen roses and a sinister note form a secret admirer, Newton realizes the criminal she let walk may not let her go. With the help of a cop who knows the offender's crimes, Newton vows to see another trial. And this time....a conviction.

Book Magazine

Brown's latest novel is utter dreck. Consider the characters: The heroine, a supersexy surgeon with the trendy gender-ambiguous moniker of Dr. Rennie Newton, is straight off The Lifetime Channel; the gumshoe, Wick Threadgill, is a jaded but sexy beach bum; the villain, Lozado, is sexier than anyone else. Among Lozado's prized possessions are a pricey bachelor pad and a tank of scorpions. Astonishingly, Brown has become very successful with such stuff—her books have sold 60 million copies and been translated into thirty languages. Perhaps translation improves the prose: In English it's all cliché—no one is killed but "brutally slain," no carpet is less than "lush," no naughty musing is unaccompanied by a "shiver of pleasure." As Lozado stalks Rennie and Wick's heart pounds for her, we're plunged into a tale of obsession and suspense and betrayal and lust and daring and romance and tears and we've heard it a thousand times before.


Author: Brown, Sandra.

Publisher: Grand Central Publishing
Pages: 480
Publication Date: 2003-09-01T00:00:01Z
Edition: Reissue
Binding: Mass Market Paperback
MSRP: 7.99
ISBN13: 9780446613057
ISBN: 0446613053
Language: en_US
Quality Rating: 1
"Book cover image may be different than what appears on the actual book."