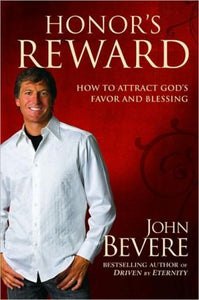 Honor's Reward: How to Attract God's Favor and Blessing
In HONOR'S REWARD, bestselling author John Bevere unveils the power and truth of an often-overlooked principle-the spiritual law of honor. Bevere explains that understanding the vital role of this virtue will enable readers to attract blessing both now and for eternity.

Publishers Weekly

Bestselling author and international conference speaker Bevere (Driven by Eternityand Bait of Satan) is known for his trademark theme of believing in God for the impossible. Fans won't be disappointed by the similar all things are possible tone in this book on the need to integrate the principle of honor into every aspect of life, both functionally and spiritually. Bevere's focus on the biblical doctrine of honoring those governing authorities, whether in the civil, church, family, and social arena, is substantiated through scripture. Still, many in non-charismatic evangelical churches will take issue with the author's presumptive stance on ministers' right to receive double honor in the form of material wealth. Recounting the numerous times he has witnessed opulent gifts and preferential treatment bestowed upon him and other Christian servants as outward signs of being honored, Bevere provides an endless litany of hotel accommodations, presents, and the like. This reads as distasteful and greedy when contrasted with the fact that even Christ had nowhere to lay his head. The principle of honor is a worthy one, but Bevere's approach deteriorates too frequently into a what's-in-it-for-me tenor. (Nov. 15)

Copyright 2007 Reed Business Information
Author: Bevere, John.

Publisher: FaithWords
Pages: 240
Publication Date: 2007-11-15T00:00:01Z
Edition: 1St Edition
Binding: Hardcover
MSRP: 9.99
ISBN13: 9780446578837
ISBN: 0446578835
Language: en_US
Quality Rating: 1
"Book cover image may be different than what appears on the actual book."
---
We Also Recommend