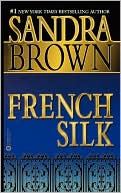 French Silk
like The City Of New Orleans Itself, Claire Laurent Is A Vibrant Beauty Laced With A Mysterious Elusiveness. The Founder Of French Silk, A Fabulous Lingerie Company, She Has Fought Hard To Make It A Worldwide Success. Then A Tv Evangelist Attacks French Silk's Erotic Sleepwear As Sinful. And When He Is Killed, Claire Becomes The Prime Suspect.district Attorney Robert Cassidy Knows Claire Is Damning Herself With Lie After Lie About The Murder, Even As He Feels Her Drawing Him Into Her World And Her Very Soul. But Neither Cassidy Nor Her Protests Of Innocence Can Save Claire Unless She Reveals A Shocking Truth — One She Has Sworn To Take To The Grave...

publishers Weekly

set In Atmospheric New Orleans, Brown's ( Breath Of Scandal ; Mirror Image ) Latest Highly Entertaining Novel Again Demonstrates Her Mastery Of The Romantic Suspense Genre. When Evangelist Jackson Wilde Is Murdered In His Hotel Room, Handsome, Driven District Attorney Robert Cassidy Has A Long List Of Suspects. At The Top Of It Are Wilde's Young Wife, Ariel, And His Son, Josh, Who Have Been Having An Affair. But Soon The Main Suspect Is Claire Laurent, The Owner Of The Lingerie Company French Silk, Whose Sexy Catalogue Wilde Targeted In His Campaign Against Pornography. Claire Had A Motive; She Had Collected And Then Hidden An Extensive File Of Clippings On Wilde And She Had Attended His Service The Night He Died. Cassidy Has One Problem With Fingering Her As The Villain: He Is Falling In Love With Her. Claire, Who Battles Childhood Memories Of Life With Her Mentally Unstable Mother, Protects Herself By Building Emotional Walls To Keep Him Out. Other Characters, Including Claire's Best Friend And Business Partner, Yasmine, Guard Their Own Secrets, Which May Or May Not Be Related To The Murder. Despite Occasionally Stilted And Didactic Dialogue, The Novel Is Adroitly Plotted And Sleekly Paced, And Has Just The Right Mix Of Menace And Sex To Keep Pages Turning. 150,000 First Printing; Doubleday Book Club Main Selection; Literary Guild Alternate; Author Tour. (may)

Author: Brown, Sandra.

Publisher: Grand Central Publishing
Pages: 403
Publication Date: 1992-05-08T00:00:01Z
Edition: 1st ed.
Binding: Hardcover
MSRP: 0.00
ISBN13: 9780446516549
ISBN: 0446516546
Other ISBN: 9781455546312
Other ISBN Binding: saleableprint
Language: en_US
Quality Rating: 1
"Book cover image may be different than what appears on the actual book."