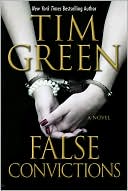 False Convictions
In bestselling author Tim Green's latest thriller, Casey Jordan returns-seeking justice in a small town riddled with . . .

FALSE CONVICTIONS

Casey is counting on an open-and-shut case, a sure success for her first effort with the Freedom Project, the renowned charity group dedicated to helping exonerate wrongfully convicted prisoners. Not only is the Freedom Project giving Casey the chance to help innocent people, but its founder, Robert Graham, is offering Casey a one-million-dollar annual pledge to her legal clinic for taking on just two jobs a year.

Her first assignment is to revive the case of Dwayne Hubbard, an indigent black man serving a life sentence for the rape and murder of a college student seventeen years ago. Using DNA evidence, Casey expects to easily prove Hubbard's innocence. Yet when she arrives in rural Auburn, New York, she meets immediate and aggressive resistance.

Tormented by death threats and assassination attempts, Casey investigates a prosecution apparently rife with lies. From the judge, the lawyers, the jury, to the police, she traces a web of corruption surrounding the destruction of one young man. But in all the chaos, Casey's hardest challenge may be just staying alive.

Publishers Weekly

A brisk plot with plenty of surprises more than makes up for stock characters in bestseller Green's entertaining third novel featuring Dallas attorney Casey Jordan (after Above the Law). Casey is committed to working with the Freedom Project, a nonprofit group dedicated to exonerating the wrongly convicted. The group's founder, billionaire Robert Graham, offers Casey's legal clinic an annual pledge of $1 million to take on a couple of high-profile cases a year. Using DNA analysis, Casey proves the innocence of Dwayne Hubbard, a black man who may have been framed by the police, judge, jury, and lawyers for a female college student's murder 20 years earlier. Meanwhile, TV news journalist Jake Carlson believes that Graham isn't the altruistic, humble philanthropist he claims to be. Jake and Casey begin an uneasy alliance to scrutinize Graham's business dealings. Green credibly explores Casey's enthusiasm for the law and helping the poor. (Feb.)

Author: Green, Tim.

Publisher: Grand Central Publishing
Pages: 304
Publication Date: 2010
Edition: 1
Binding: Hardcover
MSRP: 25.99
ISBN13: 9780446401524
ISBN: 0446401528
Language: en
Quality Rating: 1
"Book cover image may be different than what appears on the actual book."
---
We Also Recommend