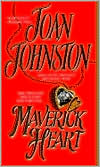 Maverick Heart: A Novel
fleeing England As A Destitute Widow, Lady Verity Talbot Settles In The Wilderness Of The Wyoming Territory. In The Arms Of A Buckskin-clad Stranger, She Recognizes The Unforgettable Kind Of Passion From The Man She Left Behind 20 Years Before. But This Time Viscount Linden, Now A Frontiersman, Would Not Let Her Go So Easily.

publishers Weekly

with Her Newest Offering, Veteran Historical Romance Author Johnston (the Inheritance) Tells Two Linked But Separate Love Stories-one Of Lady Verity Talbot, Countess Of Rushland, And The Other Of Lady Verity's Illegitimate Son, Rand. As A Young Woman, Verity Was Forced Into Marriage To The Earl Of Rushland To Save The Life Of Her Lover, Miles. Twenty-two Years Later, The Earl Is Dead And Verity Has Left England With Rand And His Fiance, Freddy, To Take Up Residence On The Wyoming Ranch The Earl Purchased Before His Death. Unbeknownst To Verity, The Ranch Actually Belongs To Miles, Who Is Planning A Kind Of Revenge Against Verity (forced Marriage Again) For Rebuffing Him All Those Years Ago. Before The Travelers Reach Their Destination, They Are Nearly Trampled In A Buffalo Stampede, Then Attacked By A Band Of Indians. Rand And Freddy Are Taken Captive By Hawk, A Sioux Warrior Who Intends To Make Freddy His Bride. If Humdrum Narrative Isn't Enough To Turn Readers Off, The Uninvolving Plot Surely Will Be. Worse Are Distracting Analogies Such As This One Describing The Sunrise: ``dawn's Pinkened Fingertips Steadily Crawled Their Way Over The Windowsill.'' Reading This Novel, One Gets The Feeling One Is Picking Through A Valise Overstuffed With Odds And Ends. (dec.)

Author: Johnston, Joan.

Publisher: Dell
Pages: 400
Publication Date: 1995-11-05T00:00:01Z
Edition: First Edition
Binding: Mass Market Paperback
MSRP: 7.99
ISBN13: 9780440217626
ISBN: 0440217628
Other ISBN: 9780307789525
Other ISBN Binding: printisbn
Language: en_US
Quality Rating: 1
"Book cover image may be different than what appears on the actual book."
---
We Also Recommend