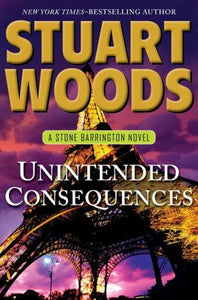 Unintended Consequences (Stone Barrington, Book 26) (A Stone Barrington Novel)
Stone Barrington Is No Stranger To Schemes And Deceptions Of All Stripes; As An Attorney For The Premier White-shoe Law Firm Woodman & Weld, He Has Seen More Than His Share. But When He Travels To Europe Under Highly Unusual Circumstances, Stone Finds Himself At The Center Of A Mystery That Is, Even By His Standards, Most Peculiar. While Investigating A High-profile Murder, He Uncovers A Puzzling Conspiracy Involving The European Elite And The Deadly Games They Play. With No Checks On Their Ambition, The Wealthy Will Go To Any Ends To Increase Their Power, And Only Stone Stands In The Way Of Their Dark Schemes. Two Unexpected Invitations May Be The First Clues In The Intricate Puzzle Stone Must Unravel To Learn The Truth, A Puzzle That Will Lead Him Deep Into The Rarefied World Of European Ultrawealth And Privilege, Where Billionaires Rub Elbows With Spooks, Insider Knowledge Is Traded At A High Premium, And Murder Is Never Too High A Price To Pay For A Desired End. It Soon Becomes Clear That Beneath The Bright Lights Of Europe Lurks A Shadowy Underworld, And Its Only Rule Is Deadly Ambition. Stuart Woods.
Author: Woods, Stuart.

Publisher: G.P. Putnam's Sons
Pages: 320
Publication Date: 2013
Binding: Hardcover
MSRP: 12.99
ISBN13: 9780399159879
ISBN: 0399159878
Other ISBN: 9781101621202
Other ISBN Binding: print
Language: en
Quality Rating: 1
"Book cover image may be different than what appears on the actual book."
---
We Also Recommend