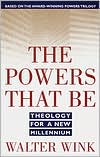 The Powers That Be: Theology for a New Millennium
In The Powers That Be, theologian and biblical scholar Walter Wink helps us reformulate our ancient concepts - such as God and Satan, angels and demons, principalities and powers - in light of what we now know. Wink's theology is shaped as much by his study of the Bible as by his involvement in the civil rights movement and the fight against apartheid in South Africa. The result is nothing less than a new worldview, one that will help us address the problems of the present and meet the challenges of the future. The Powers That Be is as concerned with salvation as with justice, as relevant for our spiritual selves as for our political lives. Wink closely examines "the Powers," and by exposing them for what they are in true prophetic fashion, levels a mighty blow against them.

Author: Wink, Walter.

Publisher: Harmony
Pages: 224
Publication Date: 1999-04T
Edition: Reprint
Binding: Paperback
MSRP: 15.95
ISBN13: 9780385487528
ISBN: 0385487525
Other ISBN: 9780307575456
Other ISBN Binding: print
Language: en_US
Quality Rating: 1
"Book cover image may be different than what appears on the actual book."
---
We Also Recommend