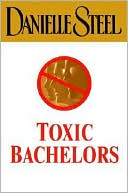 Toxic Bachelors (1st Edition)
Three Daunting Bachelors Embark On A Journey To The Mediterranean Where They Face Women Who Challenge Their Deepest Relationship Phobias, Sparking Big Changes In The Once-carefree Trio That Just Might Put An End To Their Carousing Days. When You've Got Three Attractive Men In A Steel Novel, Each Determined To Stay Single, You Can Expect Romance, Love And Marriage Vows Around The Corner, As Well As The Usual Mix Of Glamour, Fashion And Wealth. Charles Sumner Harrington, Born To Affluence, Has No Family And, Following Several Botched Engagements, Is, At 46, A Perfectionist Who Will Probably Never Meet The Woman Of His Dreams. Adam Weiss, A Harvard Law?trained Hotshot, Was Burned By A Nasty Divorce; At 41, He Is A Sworn Bachelor Who Parties With The Pretty, Young And Clueless. Gray Hawk, A New York Artist Living Hand-to-mouth At 50, Was Adopted At Birth By Globe-trotting, Drug-taking Rock Stars; He's Drawn Exclusively To Women Whose Middle Name Is Victim. The Three Friends Take Their Annual Summer Mediterranean Booze Cruise On Charles's Luxurious Yacht, And In The Hubbub There And Back In New York, Each Ends Up Crossing Paths With A Woman Who Turns His Life Upside Down. After The Initial Bliss, There Are Confrontations, Challenges And Threats To Promising Relationships. Danielle Steel.
Author: Steel, Danielle.

Publisher: Delacorte Press
Pages: 336
Publication Date: 2005
Edition: First Edition
Binding: Hardcover
MSRP: 0.00
ISBN13: 9780385338271
ISBN: 0385338279
Language: en
Quality Rating: 1
"Book cover image may be different than what appears on the actual book."
---
We Also Recommend