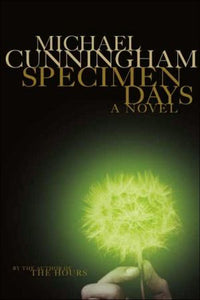 Specimen Days
In each section of Michael Cunningham's bold new novel, his first since The Hours, we encounter the same group of characters: a young boy, a man, and a woman. "In the Machine" is a ghost story that takes place at the height of the industrial revolution as human beings confront the alienating realities of the new machine age. "The Children's Crusade," set in the early twenty-first century, plays with the conventions of the noir thriller as it tracks the pursuit of a terrorist band that is detonating bombs, seemingly at random, around the city. The third part, "Like Beauty," evokes a New York 150 years into the future, when the city is all but overwhelmed by refugees from the first inhabited planet to be contacted by the people of Earth.

Presiding over each episode of this interrelated whole is the prophetic figure of the poet Walt Whitman, who promised his future readers, "It avails not, neither time or place . . . I am with you, and know how it is." Specimen Days is a genre-bending, haunting, and transformative ode to life in our greatest city, and a meditation on the direction and meaning of America's destiny. It is a work of surpassing power and beauty by one of the most original and daring writers at work today.

The Washington Post - Elaine Canin

It's this sense of tragedy, in fact, quietly thrumming below the racket of nuclear Winnebagos and Whitman-ejaculating memory chips, that sets this far-ranging adventure squarely in the realm of Cunningham's other painfully felt novels. The structure of Specimen Days is experimental, its plots are bizarre, and one character is literally poikilothermic, but at the same time the book concerns itself with what all his books have: human connection among misfits of every ilk, our constant pain of loss, and our equally constant striving for solace.

Author: Cunningham, Michael.

Publisher: Farrar, Straus and Giroux
Pages: 320
Publication Date: 2005-06-07T00:00:01Z
Edition: 1st
Binding: Hardcover
MSRP: 25
ISBN13: 9780374299620
ISBN: 0374299625
Language: en_US
Quality Rating: 1
"Book cover image may be different than what appears on the actual book."
---
We Also Recommend