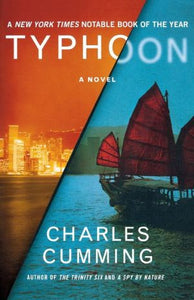 Typhoon
Charles Cumming, lauded internationally as the successor to John le Carré, returns with his biggest, most ambitious thriller to date. Beginning in 1997, just as the British are about to re - turn Hong Kong to Chinese rule, Joe Lennox, a young opera tive for SIS (MI6), loses both his girlfriend and his first high profile asset—a prominent defector who disappears from a safe house. The girlfriend he lost to Miles Coolidge, a hard-bitten CIA agent; the asset to collusion between his bosses and the CIA. Over ten years later, during the run-up to the Beijing Olympics, Lennox is back in China, facing his old nemeses. With the CIA plotting to use an Islamic group to destabilize China, the SIS seeking to thwart them and his old asset the key to all of this, Joe Lennox, Miles Coolidge, and the girlfriend they shared are all hopelessly intertwined in a plot where trust is impossible and truth is unknowable.

The New York Times - James Fallows

As a thriller, Typhoon is easy to like. The plot is tight and complex, and the local details are accurate about the three main cities where it is set: Shanghai, Hong Kong and Beijing. The questions and tensions set up in the first 300 or so pages are resolved in a multifront action scene through the final 100 pages, as characters converge from around the country to create or thwart terrorist violence. I think of spy fiction set in Europe—by John le Carre, Alan Furst, Charles McCarry—as being dark in ambiance and mood: twilight scenes, drizzle, disappointed characters with their best years and opportunities behind them. Cumming's tone is correspondingly bright, partly thanks to the pep of urban China, partly because the characters are young and on the make.

Author: Cumming, Charles.

Publisher: Griffin
Pages: 416
Publication Date: 2011-03-01T00:00:01Z
Edition: Reprint
Binding: Paperback
MSRP: 16.99
ISBN13: 9780312654207
ISBN: 0312654200
Language: en_US
Quality Rating: 1
"Book cover image may be different than what appears on the actual book."
---
We Also Recommend