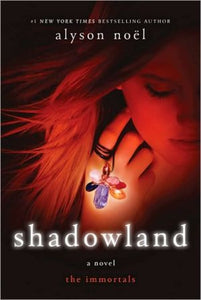 Shadowland (The Immortals, Book 3)
In the third installment of The Immortals, Ever attempts to break a powerful curse on Damen, with help from a green-eyed surfer named Jude.

School Library Journal

Gr 9 Up—Ever and Damen have triumphed over adversity and are now both immortal. The only sticking point is that Roman tricked Ever just as she saved Damen's life and now they are never allowed to touch. All of this occurred at the end of Evermore (St. Martin's, 2009), and these events are quickly recounted here. However, readers not familiar with that book will still find this one confusing. Ever is understandably upset at the idea of eternal life with her beloved while never allowed to kiss (not to mention anything else), and Damen is determined to find a reversal spell. Then things get even stickier for these romantic heroes. Ever runs into Jude, the man she's married or almost married in her past incarnations. Is she supposed to end up with him instead of Damen? And Damen becomes responsible for twins who escaped the fires of Salem but are now homeless and still aged 13. Can he overturn his bad karma by becoming father to these homeless girls? While Ever is a rather naïve and superficial protagonist, she still manages to hold readers' interest more than she annoys. Additionally, the question of love versus destiny is one that many romantic fantasy readers enjoy pondering. This is a quick read for fans of the first book who are looking for light romance with some magic added for good measure.—Saleena L. Davidson, South Brunswick Public Library, Monmouth Junction, NJ

Author: Noël, Alyson.

Publisher: St. Martin's Griffin
Pages: 368
Publication Date: 2010-09-14T00:00:01Z
Edition: Reprint
Binding: Paperback
MSRP: 11.99
ISBN13: 9780312650056
ISBN: 0312650051
Language: en_US
Quality Rating: 1
"Book cover image may be different than what appears on the actual book."